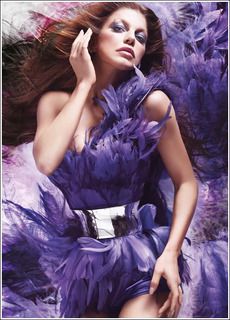 DOESNT SHE LOOK AMAZING CHECK OUT MACCOSMETICS.COM
I REALLY LIKE HER MAKEUP ON THIS PICTURE WHAT DO YOU GIRLS THINK
WELL TODAY I NOTICED THAT THEY FINNALLY PUT UP A FACECHART FOR THIS LOOK SO HERES THE LINK:
http://www.maccosmetics.com/looks/look.tmpl?CATEGORY_ID=CAT1424
EYEBROWS: Clear-Colour-free
Slick! Strokes on. Adds shine, style, grooming, overall wow! to the brows. A brush-on gel that grooms and slicks brows into shape without flaking or stiffening the brows. Available in several tinted shades or clear, it can be used on its own, or for a nice natural look stroke over Eye Brows. May also be used on lashes, sideburns, and chops - any facial hair.
EYESHADOWS SHES WEARING:
Crystal Avalanche
White with reflects (VeluxePearl)
Satellite Dreams
Plum w/violet pearl (Veluxe Pearl)
Parfait Amour
Blue-violet with shimmer (Frost)
Seedy Pearl
Chilled lavender pink (Frost)
ZOOM LASH MASCARA: Zoomblack-Rich black.
This instant volume mascara power-lifts the lashes into length, curls them up...builds them faster than you can wink! Precision control wand glides smoothly down lashes to provide a gorgeously silky upward "sweep". Smudgeproof and long-wearing!
FLUIDLINE EYELINER:
Ultra-smooth, Fluidline's gel formula provides the precision of a liquid liner with a silkier, softer finish. Goes on "foolproof" with a brush in an easy dip-and-stroke action. Long-wearing. Smudge-proof. Lines up in a rich array of colours and finishes. Brush sold separately.
Blacktrack
Solid flat black.
blush -Harmony Muted rose-beige brown (Matte)