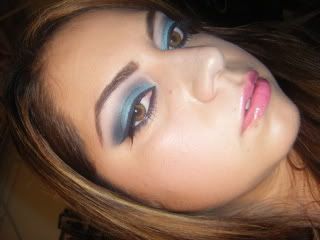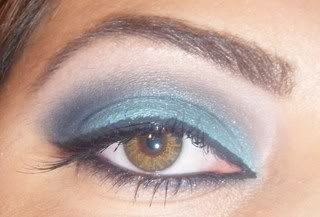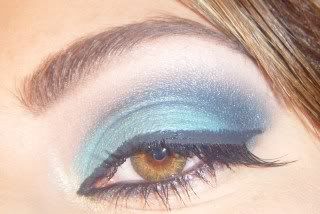 click on pictures to enlarge
hi everyone here are some pictures from my too dolly inspired face chart from mac hello kitty collection and heres the link to my video so you can see what i did to achieve this look name of video is Mac Hello Kitty too dolly makeup look
http://www.youtube.com/watch?v=hyyQQZXc_Wo
here are the ORIGINAL facechart instructions now see the video to see what i used use what you have and dupe things and colors
name of look HELLO KITTY wILD: TOO DOLLY
EyesUse 266 Angle Brush to define brows with Carbon Eye Shadow.
Softly highlight over the browbone with Milk Pigment using 275 Angled Shading Brush.
Apply Paint Pot in Delft to the eyelid and set with Eye Shadow in Too Dolly with 242 Shader Brush for an intense colour application.
Blend Stately Black Eye Shadow through the centre and outer crease.
Use 210 Liner Brush to line the upper lashline with Blacktrack Fluidline, giving a pronounced lift while creating a cat shape.
Draw a thin line through the lower lashline with Blacktrack Fluidline, using a touch of Stately Black Eye Shadow to soften the edge.
Use 210 Liner Brush to line Blacktrack Fluidline connecting the crease and outer corners with a delicate line.
Apply a generous coat of Plushblack Mascara on upper and lower lashes.
Cheeks: Emphasize the cheek contour with a dusting of Tippy Beauty Powder Blush with 116 Blush Brush.
.Hello Kitty Beauty Powder Blush - Tippy
lips: Softly balance the mouth with Dervish Lip Pencil, and shade lips with Strayin Lipstick.
Finish off the look with a coating of Nice Kitty Lipglass.
Lip Pencil - DervishHello Kitty Lipstick - StrayinHello Kitty Lipglass - Nice Kitty